Crystal Coast Resort
Seducingly overlooking the pristine tropical waters of Panglao Island is Crystal Coast. Crystal Coast is an exotic three-hectare seaside resort, perfcetly situated above the coastal areas of one of the Philippine's most captivating dive sites.
Located at Barrio Tawal, Crystal Coast is sequesterde enough for privacy; yet conveniently accessible. A charming ambiance of panoramic ocean view is at Crystal Coast with the soft rush of the rolling waves on long stretches is a haven for a relaxing stay and a leasurable break. For business functions, group tours, family get together and personal retreats, come to Crystal Coast! When you get to the resort, you don't only see serenity mixed with elegance... You'll discover " a piece of paradise" you just can't resist!
Accommodation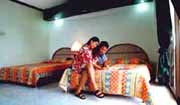 Villa Ana Cristina
A luxurious fully air-conditioned two-story edifice lined with 10 garden view rooms, each has their own toilet and bath, telephone system, and verandah providing cool garden view and panoramic sight of the ocean below.
Villa Angela
Uniquely built 10 air-conditioned family suites good for 4 persons, each with toilet and bath, telephone and television systems, two queen size beds at the mezzanine, and receiving area on the ground floor leading to a sand deck overlooking the sea.
Cabanas
A selection of 8 comfortable home cottages, each with two fully air-conditioned bedrooms good for 4 persons with television and telephone systems; kitchen with refrigerator and stove; comfort room with shower, toilet and bath; outdoor terrace, verandah and parking space.
Dining
An open air cliff-top restaurant which can accommodate one hundred people, providing an excellent view of the beach, serving local sea foods, Filipino cuisines, and Chinese dishes.
Facilities and Amenities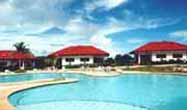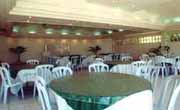 A fully air-conditioned conference, convention and banquet hall equipped with audio and video systems, with seating capacity up to 175 persons