Camiguin Hot Spots
13. Tangub Hot Spring
It is a volcanic hot spring not fully developed a little beneath sea level where a pool is formed by sea stones and corals. Water temperature shifts from cold to lukewarm to warm then to hot as tide changes. Immerse in the warm water inside the pool at low tide and enjoy the cold sea water merging with the hot spring. This rare spring is situated at Naasag, Mambajao - about 12 kilometers west of the capital town; 10-20 meters offshore is ideal for scuba diving.
14. Mt. Hibok-Hibok
Its approach is via the base of Barangay Tagdo in Mambajao. It is a volcano 1250 meters high above sea level. Its slopes are challenges/barriers for professional climbers as they trek skillfully and maneuvers on loose rocks and boulders towards the peak. At the zenith, there is a crater like lake and steam outlets where one can have a clear panoramic view of the entire island and the Bohol Province during sunny clear days.
15. Old Volcano
A volcano located 13 kilometers away from Mambajao with stiff drop off measuring 7,080 meters high above sea level. It is the landmark for PANAAD.
| | |
| --- | --- |
| Mt. Vulcan | Mt. Timpoong |
16. Mt. Ilihan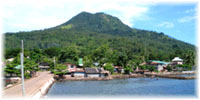 It is located at Butay, Guinsiliban and a 3-hour climb uphill. There, one can see bluish green ridge of mountains and majestic slopes as he recites his Stations of the Cross, especially on Lenten Season. One can experience a sense of relief when reaching the top with its cool mountain breeze. Its splendid beauty is very touching. At the pinnacle, climbers can peacefully camp and take pleasure in unbothered world.
17. White Island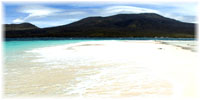 An uninhabited white sandbar where the view of towering Mt. Hibok-Hibok and Old Volcan reflects the grandeur the Province of Camiguin has ever achieved. It is reached within 10 minutes through light water transport from anywhere in Yumbing, Mambajao area.
18. Mantigue Island
The island is 4 hectares of evergreen forest, fringed with white granule sand beaches. A fishing village is found in the north of the island. One side of the island is a white sand beach with coral offshore, and the other opposite side provides a deep drop-off for snorkeling and diving. One gets there by light water craft in 25-30 minutes from San Roque, Mahinog.
19. Jicdup Shoal (Dive Spot)
It lies approximately 2 nautical miles from the shore of Balbagon, Mambajao. The seabed rises forming a shoal about 10 hectares in size hosting a variety of aquatic life. It is one of the best dive spots in Camiguin Island teeming with fishes of different species and shapes/sizes. It has excellent visibility and is best for underwater photographs, and novice divers.
20. Burias Shoal (Dive Spot)
Slightly smaller than Jicdup, Burias is among the favorite spot for high adventure seeking divers. It hauls the thrill seeking divers to the shoal to see schools of jacks, tuna, mackerels and barracudas. A verdant black coral covered bottom is also one of its treasures. Diving here can be strong, however, the little effort spent fining against the current is worth the excitement.
21. Taguines Lagoon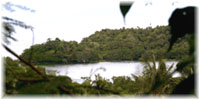 It is a lagoon mantled by limpid water, large cliff and gently rolling hills. The brackish water is engulfed in there by a century old crater, ideal for boat and fishing. It is located at Benoni, Mahinog.
22. Centennial Tree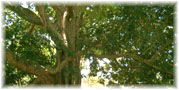 A Pili Nut tree which is more than century old situated at Lakas, Mambajao owned by the Corrales Family. One can marvel how the tree survived the tests of