Costa Aguada Resort
Inampulungan Island, Sibunag, Guimaras
A resort that's as rare as they come. Indeed, it has been tagged as the last resort. A place where man must finally surrender to nature. At Costa Aguada, surrendering has never been so easy and so luxurious.
A life that's as liberating as you like it. Life at Costa Aguada is the way you want it to be - fun, free, and easy. The swimming pool and private beach let you to while away the slow hours. The adventurous ones may hire a banca and go island-hopping. Or stay landside and hike our untouched forests, or go horseback riding. Nights at Costa Aguada are equally exciting. Relax and take a drink at our Orchid Bar, play table tennis, billiards, darts, or card games in the Pili Hall, or feast on a long, late dinner at our Dining Hall.
A world as wild as it was meant to be Costa Aguada is cradled by the sea and the forest - both left ripe and untouched for the jaded traveller. Take a real jungle trek through the green and witness exotic wildlife and a sea forest of rare mangroves. Still, there is more to do than just feel the natural world, where EVERYTHING - from the decor, to the soap - is made right here on the island. Even more inviting is the delicious feast of exciting local cuisine that awaits all who visit.
Location
The resort is on Inampulugan Island, a part of the Guimaras Island Chain in the Visayas Region. Southeast of Iloilo City, it is easily reached by a 50-minute plane ride from Manila. Upon landing, we will provide a comfortable 20-minute bus transfer to the Pulupandan Pier, where a ferry banca will take you on a refreshing, relazing 45-minute boat ride to the resort.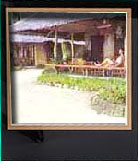 Amenities