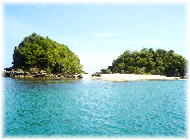 Shell Island - The island is broken in half so you can watch the azure waves crash gently; break into silver sprays and race towards the tide pool. Or turn your attention in studying the ingenious limestone rock formations that make up the island. Or, maybe, just watch the flight of birds as you hide away from the sun and take refuge from their shade. But don`t miss the chance to lose yourself in collecting shells hidden or lying either on the shore or silently glistening under the shallow waters. The area is also subjected to flooding during high tide hence the common sightings of small reef fishes.
Devils Island - Once named Cagao Island and is now named after former President Macapagal, it is still often called by many locals as Devil`s island. It has a nice beach with a morning shade. But this seemingly simple and relaxing hideaway offers more than an undisturbed picnic and skinny-dipping time. Each diving spot in the Park is uniquely beautiful and interesting; with the gliding sea creatures and magnificent corals ready to greet you. But Devil`s Island by far doubles this stunning exquisiteness with its remarkable diving sites, a true haven,especially for those who want to explore some underwater magic.
Sison Island - Nature photographers or even one who just stuffs his/her travel photo albums, can quench the thirst for a picture quest with the visible coral reefs nearing the foreshore are, as well as awe-inspiring views from the island`s view areas. Thrill-seekers can choose their kind of fun – trekking, snorkeling or diving. And day or night, the swimming experience is simply amazing, with fine white sand to lie back on after a dip.
Milagrosa Island - Located at the southernmost part of the Hundred Islands National Park (HINP), it has a cave that is accessible only during lowtide and the formation of stalactites and stalgamites are most defined and evident. Swim or kayak your way into the cave and indulge yourself in the cooling atmosphere that it exudes.
Scout Island - Situated just pass Marcos Island, on the southern part of the Park, guests can treat themselves to an extraordinary underwater experience, plunging in the island`s diving spot and slithering smoothly alongside marine wonders residing in the offshore reefs. After that, a lounger in the island`s fine-sanded beach should relax adventure-worn muscles.
Old Scout - Located near Quezon Island, its white sand beach is ideal for sunbathing. Not up for lounging and spreading suntain oil on your back? Bring on your diving gear and while away the hour beneath its azure waters or opt to kayak your way around it.
Romulo Island - Located near Braganza Island, its perfect for island-to-island activities. It has good white sand beach where one can take advantage of the sun and the breeze, with a little surprise at low tide. Its morning rock shade becomes a small cave once the tide drops. You can take a little dip or just simply stun your pals by striking model-like pose in the cave.
Monkey Island - So named because of the sightings of monkeys in the area.Located in the northern part of the Hundred Islands National Park (HINP), backing Century Island, it offers impressive sites for island adventure, kayaking and great spots for swimming, which more than makes up its lack of beachfront. And yes, a chance to capture a glimpse of the otherwise shy monkeys in the area.