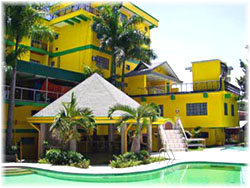 Hotel Consuelo Resort and Chinese Restaurant rises gracefully at the heart of of Lingayen, the capital town of Pangasinan. It is just a walk away along the shore of the historical Lingayen Gulf, only 30 minutes away to our Lady of Manaoag Shrine, 45 minutes drive to the magnificent Hundred Islands, 2 hours drive to Baguio, and 4 hours drive to Manila.
The Hotel Consuelo Resort and Chinese Restaurant is a family owned business founded by Engr. Angelito Trinidad and his wife Mrs. Consuelo Trinidad. The former Viscount Hotel was sold to Angelcon Properties, its Mother Company and developer, which started its renovation in early 1995, with simultaneous construction of the poolside. It opened its doors to the hospitality trade on November 28, 1995.
The hotel is a five storey building located at Alvear St., Corner Maramba Blvd., Lingayen, Pangasinan , with a land area of 4,700 square meters. It is within the town's government establishments such as the Capitol Building, NFA, LTO, DepEd, Provincial Library, and the Urduja House, which is the Governor's Office.
Hotel Consuelo Resort offers a distinctive customer service satisfaction. We can hold your wedding receptions, baptismal celebrations, birthday parties, debutante balls, and all of life's occasions in style that's close to your heart. We also cater to corporate events from live-in seminars to conferences, and company affairs.