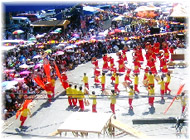 The most anticipated and largest crowd-drawer event in Alaminos City. Lavish celebration marks the Hundred Islands Festival. Exhilaration rides the atmosphere with the string of athletic and challenging pursuits like sky diving competition, skills Olympics or island adventure race, inviting the thrill-seeking foreign and local tourists. Sighs of awe and approval can be heard as the best of aqua products and seafood cuisine enjoys center stage. Restaurants often let out the latest and most sumptuous menus during the festival. A trade fair also usually graces the occasion.
But the most awaited spectacle would be the fluvial parade, showcasing floats made of shells and other fabulous marine themes. Magnificent designs only gets better at each competition. And the street rings of beats for the street dances, as well as the melodic masterpieces from the drum and lyre groups of different schools, joined by the official drum and bugle group. The heat of the sun mingles with the warm smiles of people following the floats and with the hot, dynamic dance routine of the street dancers.
After which, the night glitters with the charming smiles from beautiful muses vying for the HI maiden pageant. Then, people, especially the young crowd, flock the concerts featuring famous bands or celebrities. You'll go home with a full stomach, event-filled memory and a bagful of souvenirs and delicacies and with one promise – you'll not miss the celebration next year.