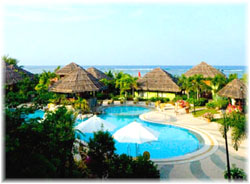 Experience the rustic appeal of a beautiful town rich in culture and steep in history. Its verdant shelters breathtaking waterfalls and mystic caves… the crystal clear waters of the South China Sea is lined with golden-white sands that sparkle under the tropic sun… and its people… the friendliest there is north of Manila… this is Bolinao! A most beautiful and exclusive resort/hotel nestles in the heart of this picturesque town in Pangasinan – Puerto del Sol.
Within the picturesque town of Bolinao is a highly exclusive and uniquely inspired seaside resort/hotel, which offers the ultimate in elegance, grace and detail - Puerto Del Sol. Majestic natural wonders, world-class accommodation and amenities, plus the warmth and friendliness of the service staff make Puerto del Sol the ideal destination for major relaxation.
Resort Overview: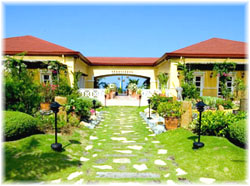 Located in the quaint and peaceful town of Bolinao, Pangasinan, Puerto del Sol houses every family vacation fantasies anyone can ever imagine. This sprawling 10,000 square meter resort also has function rooms perfect for small meetings or large conferences. It is located along the golden-white shoreline of the vast South China Sea in the tranquil barrio of Barangay Ilog Malino.
First time visitors to Bolinao will find this town very interesting, simply because of its rich culture that is steeped in traditions, its centuries-old churches and historical landmarks and a multitude of natural wonders that are all within a few minutes away from the resort. You will truly be transported to an ethereal place, a sanctuary for the tired.
The Rooms:
All rooms are air-conditioned with indvidual toilet and bathroom, hot and cold shower, television set,refrigerator, intercon system and complete bathroom amenities.