Villa Arcadia Beach Resort
History of Villa Arcadia
Sometime in 1988, the lucky year of the owner, got the opportunity to buy a piece of beach line property of about 2 hectares, later become a 3 hectare property because the wife owner acquired 1 hectare from inheritance.The property was kind of abandoned forest-like hill. Full of wild trees and bush of all kinds, coco trees, unhealthy banana plants - Gosh – no body would like to own it-huge stones are lying here there, everywhere. You will wonder where and how those rocks came to place.
The only promise and the potential that the owner found is PURE WHITE SAND that lies on the beach line with fresh gentle breeze in the morning. Its corals are dead, Marine life are sick unattended, Abused by human cruelties for a living and for food. After almost 15 years, the owner JIMMY TRECE Y LLACUNA, wife VILLA RITA BACOMO- Sons Jameson, Jim Ryan, Jill, Jesse, and nephew Kerwin, (all boys) join hands and decide to start the project.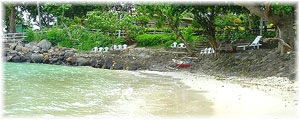 Roll here, roll there, the project was made possible. Of course the assistance and support from Sister Joy Chan, friends and relatives. Everything moved smoothly. In 8 months of hard labor, business was opened. It was named to honor his beloved wife VILLA (Villarita) and ARCADIA (Dading) the mother-in-law. Villa Arcadia existed.
It started with 5 rooms and 25 tents.Through the experience of the owner JIMMY, who retired from 27 years work as sales and marketing manager, the development went on. Funny, a salesman turned developer, engineer, architect, landscaper (Jack-of-all-trade) Learning from experience, Villa Arcadia waved its flag to where it is now.
Villa Arcadia a Family operated beach Resort has 18 fully air-conditioned rooms; 3 dorm type rooms; tents; bay walk and family rooms; conference room; function hall; sports bar; swimming pool; mini zoo, aqua funfair and many more to come.Now, those undefined and wildly arranged by nature stones turned to be a beautiful GARDEN of ROCKS; the unwanted hill became a friendly whoop and sloops; wild trees and plants provided shelters to wild lives like birds, butterflies and the seldom-found fireflies.
On the beach side, the area was declared (MPA) -Marine Protected Area. The corals are self rehabilitated, slowly growing to its shape; the marine life and fishes came back to their lives unharmed and free. FISHING IS NOT ALLOWED only FEED them.