City State Tower
City State Tower Overview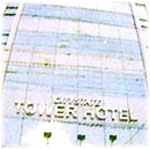 Citystate Tower Hotel is conveniently located along the historical and lively Mabini Street, 8 kilometers away from the international and domestic airport. It has a good proximity from embassies, business and commercial establishments, historical sites, parks and other attractions of Manila.
Citystate Tower Hotel, from its 12-storey height, is now a prime local and tourist home. It offers comfort, luxurious ambience and reasonably priced rooms.
Accommodation
Accomodation includes free use of Safe Deposit Box, daily supply of newspaper and parking space. All of the 140 rooms are equipped with a computerized door lock system, national & direct distance dialing telephone facilities, a mini-bar, refrigerator, cable television, video -on- demand entertainment, individually - controlled air conditioning and piped in music.
Facilities and Services include Room Service (24-hours), Business Centre, Currency Exchange and valet. "Citystate Tower Hotel now offers wireless broadband internet access!"
Room Types:
Dining & Entertainment:
Tower Cafe - (ground floor)
Enjoy a bountiful meal or snack while having a chat with a fellow guest or two at the homey Tower Cafe. Our Skillful staff delivers high-class service more than your satisfaction.It caters to every diner's discriminating taste offering a delectable fare of international dishes. An equisite dining facility, which is open 24 hours.
Citystar Music Lounge - (ground floor)
Night life has ever been this fun as you enjoy local beers and innovative cocktails drinks while singing your favorite tunes. Dine, drink, sing or swing with our friendly and talented food attendants. Open every night except Sunday.
Casino Filipino - (2nd floor)
Engage in the game of chance and be a winner. Play and enjoy its gaming tables and 25 back-to-back slot machines that accept bills as tokens. Open 24 hours everyday.
Function Rooms