Hotel Sofitel Grand Boulevard
Grand Boulevard Overview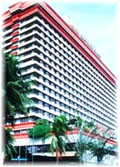 It is a pleasure to have you as their guest. The ambience of old-world elegance set in the modern day is designed to give you the comforts and convenience you so richly deserve. Experience their luxurious accommodations or savor the international cuisine at any of our dining outlets. Either way, we'll pamper you with their hospitality so your visit will truly be a memorable one.
Location
The Grand Boulevard Hotel, Manila is on Roxas Boulevard, facing Manila Bay. A few minutes walk away from the shopping, entertainment and old business districts. Nearby to the World Trade Centre, Convention Centre and the Philippines Cultural Centre. The hotel has an old world elegant atmosphere created by antiques, marble walls and floors. Transfer time from Ninoy Aquino Airport is approximately 30 minutes drive.
Room & Accommodations
Grand Boulevard Hotel Rooms has choices of 1 king size bed or two single beds. Each rooms are designed to soothe your senses with genuine maple wood in its natural hue, relaxing soft colors and ambiance, other room amenities like bathtubs, hot and cold water, cable tv, international direct dialing telephone, mini bar are also added for your utmost convenience.
Facsimile machines and international direct dial telephones are at your ready disposal. Whether for business or pleasure, they will make your stay relaxing and memorable.
Dining Facilities
Savour in the finest variety of Chinese cuisine at Man Lich. Dimsum specials, the freshest of live seafoods prepared by Masterchefs from Hongkong. Indulge your taste in sumptous food from our buffet tables or order a la carte at CAFE MONTANA. It's an all-day dining experience with dishes from virtually every part of the world, in the most relaxed setting that affords you a spectacular view of Manila's famed sunset.
Other Service