Legend Hotel
Legend Hotel Overview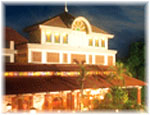 The Legend Villas, an elegant hotel with amenities & services well beyond its old world charm. It's luxury you cannot afford to miss, but can easily afford to enjoy. Set in the midst of a bustling metropolis, here is where you can relax, unwind, be yourself and feel at home.
Elegant yet cozy touches abound inside and out.. fine wood finish so smooth to the touch, sparkling Venetian glass-framed mirrors, polished barandillas in a gently curved staircase, a cozy gallinera in a quiet corner... There is no lack of functional features and comforting amenities in its 125 rooms to ensure the convenience of its guests.
Location:
It is strategically located in Mandaluyong, a city situated right in the heart of Metro Manila, it is best known as the "City of Malls" and the new base of progress and development - the area that is envisioned to become the ideal business district of the 21st century. The Legend Hotel - a perfect business and leisure haven.
Room Types
Family Room - Take the family for a weekend getway and enjoy a fun-filled stay in their family room. While most hotels cram a family of four in a room with only 2 beds and extra roll-in cot. The legend Villas has designed rooms for a family with 4 beds. They can be configured to 1 queen size bed & 2 single beds or for separate beds.
Villa Suite - A totally new hotel experience, our bi-level Villa Suites allow the utmost luxury in a very homey setting. And the Premier Suites offer a jacuzzi as an added amenity.
Team Suites - A unique feature of the legend villas, these bi-level units can comfortably accommodate at least six people. An ideal set-up for seminar participants, business associates, students groups or a barkada.
Function Room
A full-service Business Center is available to complement the continuing program of enhancing corporate clientele amenities. Located by the front Office, the Business Center provides full secretarial services along with mailing and fax services, parcel delivery and laptop / fax rentals for use in guestrooms, function rooms, the coffee shop, lobby and the pool area.
And guest can also enjoy a virtual Business Center with high speed, WiFi Internet connection and peripheral business machines that enable Internet access not only in guestrooms and function rooms but in almost all public areas of the hotel as well. The Business Center is open 24 hours daily.
Dining
Our buffet spreads are a lavish feast for the eyes & a sumptuous meal for the palate. While continental cuisine is nothing foreign to the talents of Lola Maria's all-Filipino chefs, it's the varied twists & flavors of our homegrown cooking that will keep you coming for more. Each dish is a testimony of just how much we value you as our guests. You will love the way Lola Maria feeds you.
Recreation
Swimming pool - Swim in the invigorating waters of our outdoor swimming pool or relax in our jacuzzi. Or simply laze in their lounging chairs while sipping a cool drink. Either way, your spirit will be soothed & your cares washed away. It's a refreshing oasis designed in a lush setting. And while you recharge in this scenic hideaway, their friendly & accommodating staff, always at your beck & call, will on your hand & foot.