Mabini Mansion Hotel
Mabini Mansion Hotel Overview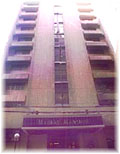 The Mabini Mansion stands supreme in the heart of old Manila, replete with its historical significance. In the midst of the hustle and bustle of Manila, enthrall yourself with the awesome 16th century Spanish architecture of Intramuros, and re-live some of Manila's grandest by-gone years.
The Mabini Mansion lies in the midst of Manila's hustle and bustle. Yet a few blocks away stands a refreshing patch of blues and greens, the Rizal Park or Luneta as it is commonly called. Luneta features a planetarium, dozens of fountains, an amphitheater, a children's playground, a skating rink and the Chinese and Japanese gardens.
Not very far from Mabini Mansion is the walled city of Intramuros. Walk through cobbled streets paved with Spanish colonial buildings and old church plazas.
Accommodation
149 rooms and suites that offer luxurious and extraordinary accommodation and first class service for discerning travellers. The ambience is as private and comfortable as home.
Room Amenities
They want you to have a very pleasant stay. They have furnished each room with amenities that would make you feel "just like home". The kitchen is equipped with:
The kitchen is equipped with:
Each room is provided with a:

Refrigerator
Electric Stove with Range Hood
Chinaware
Glassware
Silverware
Cooking ware

Remote Control Colored Television
Cable Programming
Hot & Cold Shower
Telephone with IDD/NDD access
Individual air-condition unit
Facilities
The Mansion Café - Serves a delectable array of authentic international cuisine that will tempt your palate. Open daily from 6:00 a.m. to 11:00 p.m.Rizal Conference Room - For your business meetings or conferences, the room is equipped with modern facilities meeting the needs of the corporate world.
Hotel Services
Dining
If convenience and accessibility appeals to you, the Mabini Mansion tops them all. Very close to Luneta Park, Intramuros, Chinese restaurants and hip dining spots, you'll enjoy a sundry of fun and entertainment. The Mansion Cafe Serves a delectable array of authentic international cuisine- Japanese, Oriental, Filipino and American dishes.