Punta de Uian Beach Resort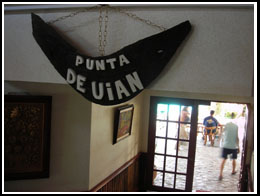 Punta de Uian is a resort that just open a few months ago. It is cradled in Pundaquit but well away from any other civilization . The resort is elegant with grand views of the sea and the Capones Islands.
The beach front is extensive and offers a variety of water sports. Surfing is very much available here along with rentals and lessons. The rooms are well done and spacious with complete amenities. The rooms are even equiped with speakers for your ipods and wifi connections. Suites have jacuzzi. Everything you need is right here.