City Garden Suites
City Garden Hotel Overview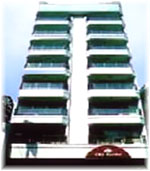 Top-class accommodation in a hotel with business character, newly upgraded for the travelers' updated needs. In the heart of Manila's bustling commercial center and tourist belt. A remarkable fusion of elegance and functionality. It is simply freedom from non-essentials. From the warm hospitality at the reception beaming with cordial staff, we take you to the room of your choice.
The new CITY GARDEN, a clean, comfortable no frills businessman's hotel, offers the convenience of first-class amenities in bright, cheerful surroundings at reasonable rates. A friendly, courteous staff is on call 24 hours a day to provide our guests with fast, efficient service.
Accommodation
City Garden Suites features 92 well-appointed rooms and suites, where comfort and convenience are foremost in our minds. Cozy and light interiors make for very warm ambience. A garden of suites is available for the guests to choose from, whether it be with kitchen or with entertainment den.
Guest Room Features and Amenities