Bohol Beach Club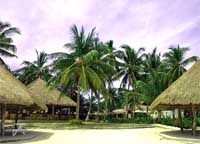 Bohol Beach Club, is nested in Panglao Island in Central Visayas. This is more or less thirty (30) minutes by land from Tagbilaran City.
Bohol has become a popular destination for tourist,because it is blessed with natural wonders. These wonders include sight such as the magnificent Chocolate Hills, the Hinagdanan Cave, the Loboc River and the smallest mammal in the world the Philippines' Tarsier
Bohol Beach Club has numerous facilities like pool bar, beach bar, restaurant, swimming pool, outdoor jacuzzi, scuba diving, glass bottom boat, tennis court, billiards, darts, chess, table tennis and backgammon.
Accommodation
• Standard
• Superior Gardenside
• Superior Poolside
• Superior Beach Front
• Executive Suite
• Premier Suit
• Family Suite
Beachfront rooms comes equipped with one single bed and one double bed, air-conditioning, satellite television, mini-bar, refrigerator with private toilet and bath and hot & cold shower. Rooms are situated on the west side of the resort, on single storey bungalow type, room clusters fronting the beach.
Facilities and Amenities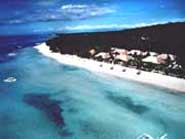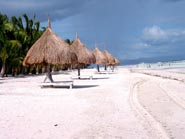 Game Room
The resort has a game room which includes a billiard table, table tennis, a mahjong table and an air-conditioned karaoke room that can be rented at an affordable rate. All table games are free of charge for in-house guests.
Swimming Pool
The Resort flaunts of three (3) swimming pools that are strategically situated within the resorts Amihan and Habagat Wing.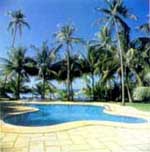 The main swimming pool is located just next to the Kalubihan Restaurant in the Habagat Wing. This pools depth is from four feet to seven feet which is also utilized for in-house diving lessons. Also, the pool has an outdoor jacuzzi with a capacity for four (4) persons.
Another pool is located in between the Superior Poolside rooms and the Executive Suites. This lagoon shaped pool has a depth of three (3) feet to five and a half (5 ½) feet.
The newest swimming pool, the largest in the resort is situated in the Amihan Wing of the resort. Surrounded by the Agotata and Taclobo restaurants, right next to the Standard Rooms, it's the size of half of an olympic size pool and has a depth of three (3) feet to five (5) feet.
Meeting and Function Rooms
Bohol Beach Club offers four (4) in-door function rooms including the largest pillar less ballroom in the island of Panglao, the Bohol Pavilion, that can be utilized to various corporate and business meetings as well as convention requirements. Whether a small group of ten (10) or a maximum capacity of three hundred (300) persons, you are assured that your meeting demands will be properly taken cared of.
Function Room Equipments
The following equipment are readily available for your meeting requirements.
· White board and marker
· White screen
· Overhead projector
· Flip chart
· Audio equipment
· Standard and wireless microphone
· LCD projector