Getting here in Bohol
Bohol is located in the middle of the Philippines, and can be comfortably reached by air and boat.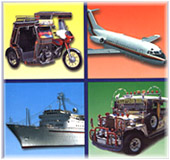 If coming from abroad, you have two options: you can fly to Manila or Cebu. Cebu is the most convenient, but only limited number of international flights will arrive there. Coming from Europe, you'll got to have a stop-over in either Singapore, Kuala Lumpur or Hong Kong, however, it will save you the hassle of going through Manila. These airlines fly international routes to Cebu: SilkAir, Malaysia Airlines, and Cathay Pacific.
If you come via Manila, you'll probably want to take a connecting flight to Tagbilaran, which is about 1 hour and 15 minutes travel time. You can also take a boat to Bohol, but it will take 25 hours, and is only advisable if you have plenty of time and enjoy a trip on sea, or have to travel on a rock-bottom budget. When coming from Manila, you can also go to Cebu by air, and then continue by boat.
There are many daily flights from Manila to Cebu. The flying time is around 50 minutes. The transfer using taxi from the airport to the pier takes about 30 minutes in normal traffic conditions, and should cost 165 pesos. The following airlines fly on the from Manila to Cebu: PAL, CEbu Pacific, Air Philippines, Asian Spirit, Astro Air, and Grand Air.
If you come via Cebu, you can also take a short 25 minute flight, but you'll probably choose to take the one and a half hour trip with a fast boat to Tagbilaran. The regular boat to Tagbilaran will take about four hours. You can also take a boat to Tubigon and Talibon, which may be more comfortable if you want to be on the west or north coast of the island.
The most economical way to get from Cebu to Tagbilaran by boat is to catch a ferry to Tubigon, and continue by bus from Tubigon to Tagbilaran. This is sometimes both faster and cheaper than taking a boat directly to Tagbilaran.
Please note that security regulations on domestic flights in the Philippines does not allow bringing liquids (such as perfumes and bottles of wine) as carry-on items into the cabin. Even if you had those liquids sealed by duty-free shops on the airport of origin, you may be forced to throw them away if you are not able to place them in your checked-in luggage.